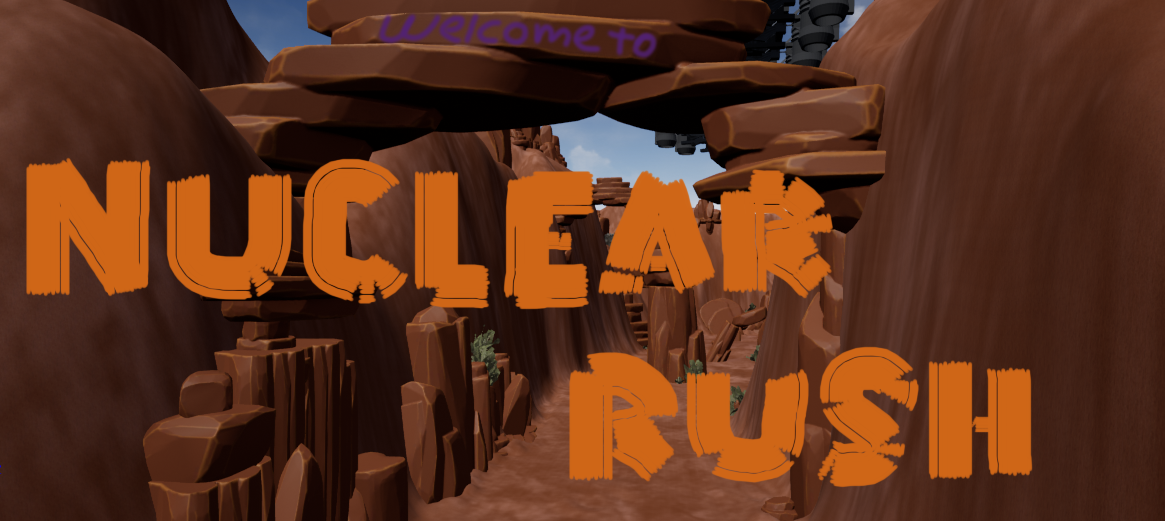 Nuclear Rush
A downloadable game for Windows
Welcome to the new gold rush for the criminally insane and the outright mad; Nuclear Rush!
Nuclear Rush is being developed as a Virtual Reality (VR) multiplayer hover pod racing game set in a radiation torn America 57 years from now. Help support our journey to an Early Access release!

1v1v1v1 multiplayer race mode(WIP, working on the mathematics behind a movement prediction model currently)
Physics based hovering and movement(finished, made to create a unique feel and experience like no other in VR)
3 death race maps(WIP)
In-game soundtrack(finished)
4 fully cast characters! Listen to some lines;

Fully cast characters unique to each actor personally!

Each racer will also feature their own hover pod and weapon set!

Offensive and defensive weapon sets(WIP)
Multi-HMD headset support using OpenXR(WIP)
Voice Chat

8 player multiplayer(WIP)
12 character roster(WIP)
Fully Cast Voice Acting
Fully Voiced in-game announcer(WIP)
Player customization
Cosmetic drops or in-game currency for placing in 1st, 2nd, 3rd. Hover pod skins, character clothing, and special character lines.
Note: There will be only ever be one in-game currency.
Steam, Oculus, and PSVR cross-platform play(WIP)
TDM and FFA arenas

Hello! Thank you for scratching that itch and checking out our project page. If you are interested in seeing Nuclear Rush really shine when it releases(when, not if), play around in our demo track with one of our hover pods! We have the prototype hover pod(as seen in the physics demo video) and single-player track demo available to anyone who donates to support development early on along with access to all later Nuclear Rush versions; including the Early Access and Full Release versions of the game!


After the former fringe remnants of the United States Government decimated their former lands and destroyed the promise of peace for the people, the once new and prosperous nations that dotted the former American landscape fell to famine and poverty. In a new and lawless land reminiscent of the old American west, a new gold was discovered; a gas that was formed from the abundance of Cesium-137 after Operation New Chariot left the American landscape irreparably irradiated. A new motor sport came to rise from the ashes of the American Republic, feeding on the condition of anarchy outside the walls of the city-states! Something that could only exist in a lawless land like that of former America, a death race dubbed the Nuclear Rush.
Attracting everyone from inventive psychopaths to money-hungry adrenaline junkies, the new gold rush became home for many racers seeking what could only be found on the hellish frontier. Not home for long of course though as death was common, but there are a few who have been blessed by the Atom and keep coming back to find their thrill, fix, or whatever reason they might have to race.


Andrew Fey started Odd Atlas Studios back in 2019 with the concept of Nuclear Rush starting in April 2020 and full-time development starting June 2020. Andrew, the founder of Odd Atlas Studios, is a former computer-science student, mod maker, and professional cannabis chef, who funded the start of the studio through experimenting in the culinary field with cannabis to great success. Besides the founder, Odd Atlas Studios is also joined by our young and talented tattoo artist and graphic designer who is a naturally gifted artist and an established professional in her art career already!
Now, with the start of the pandemic effectively shuttering the founder's private chef business, Andrew decided now was the time to officially start the studio! The team also consists of a few dedicated contractors hired to help with the project and who have seen the value in the game since it's prototype phase. Here, we share the same core drive behind our development; we are tired of what we have to play with and want something new so we just have to make it ourselves. We are committed to bringing something new to the gaming community, especially the VR community; something that is refreshing! This concept has been tested again and again in the prototype phase with great and simple enjoyment by a pool of testers. Nuclear Rush is a gaming experience that can only be realized through VR and we will bring you the experience in virtual reality as we dream it ourselves currently.
Download
Click download now to get access to the following files:
NRPhysPodNTrack.zip
692 MB